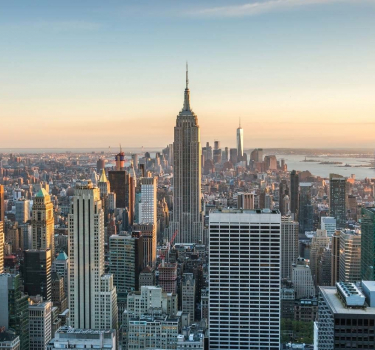 July 25th, 2018
Things to do in New York City
Dance The World Broadway is quickly approaching! In between the stage shows, Times Square performance, and the NYC Skyline Dinner/Dance Cruise there will be plenty of time to explore the city. New York City offers an endless amount of attractions and things to do! Gray Line New York offers an abundant amount of attactions such as bus tours, helicopter tours and much more! Dance The World Broadway has partnered with Gray Line New York. Visit www.newyorksightseeing.com/dance to save 15% on sightseeing tours and attractions! If you're having trouble planning your trip, here a few suggestions.
Central Park
It isn't a trip to the "Big Apple" unless you visit Central Park. Central Park is one of New York's biggest photo opportunities. The park offers the perfect balance between nature and city. Central Park is a great place to spend time with friends and family. It is a prime location to have a picnic or get a view of New York City's skyline and its unique architecture. Central Park has a variety of attractions including boat rentals, a zoo, a carousel, and a reservoir. Central Park stretches 2.5 miles long and a half mile wide. Central Park is 843 acres and is located from Central Park South and Central Park North between Fifth Avenue and Central Park West.
Statue of Liberty
One of New York City's most notable landmarks is the Statue of Liberty. The Statue of Liberty is located on Liberty Island in the New York Harbor. The only way to get to "Lady Liberty" is by ferry. During the ferry ride, you'll get a great view of the 305-foot sculpture and New York City's skyline. Once you reach Liberty Island you'll be able to take numerous photos and even walk up to the crown of the Statue of Liberty.
View New York City Skyline
If you're looking for a birds-eye view of the city there are plenty of options. The most popular observation decks are The Empire State Building, One World Trade Center also known as Freedom Tower, and Top of the Rock at Rockefeller Center. If you're looking for a free view of the city the Brooklyn Bridge is great spot to view the skyline.
Locations:
The Empire State Building: 350 5th Ave
One World Trade Center (Freedom Tower): 285 Fulton St
Top of the Rock at Rockefeller Center: 30 Rockefeller Plaza
New York Food
NYC doesn't only offer breathtaking views, but it also has fantastic food! New York City is best known for their delicious New York style pizza and bagels. You can grab a bagel or pizza from just about anywhere in the "City That Never Sleeps". That's not all New York City has to offer! The city has countless food options. You can grab food inspired by many cultures and countries. If you are in the mood for an Italian dish stop by Little Italy or if you are craving Chinese take a trip to Chinatown.
Metropolitan Museum of Art
The Metropolitan Museum of Art is the largest art museum in the United States. The Met is known for its sophisticated artwork and remarkable architecture. The stairs located in front of the Met have been in a numerous amount of television shows and movies.
Location:
1000 5th Ave
These are just a few of the many options to explore in the city of endless possibilities.