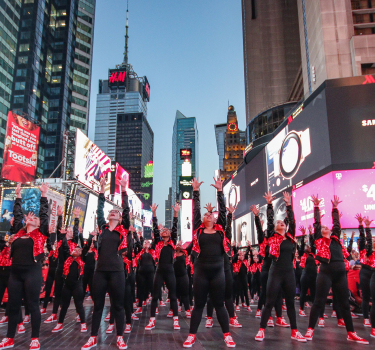 August 2nd, 2018
Dance The World Broadway 2019
Our second annual Dance The World Broadway event was an even bigger success than last year! Thank you for joining us underneath the city lights in Times Square!
During Dance The World Broadway, performers had the opportunity to dance on a Broadway stage, perform in the middle of Times Square, take celebrity masterclasses and Disney workshops! Many families opted to culminate the event with an NYC skyline dinner/dance cruise.
Rehearsals
Dancers filled the room with so much excitement during rehearsals! Our staff and dance instructors witnessed dancers from different studios come together and perform as one. Each studio came prepared and executed the choreography perfectly!
Times Square Performance
After months of planning and rehearsing, it was finally time to perform in front of the TKTS Steps in Times Square! Performers danced in the middle of Times Square surrounded by the illuminated billboards and larger than life skyscrapers! Ella Glasgow and Corbin Bleu accompanied the crowd in Times Square by introducing each group before they performed. Each Times Square performance filled the city with so much energy and enthusiasm. This energy came from friends, family, dance instructors, and even bystanders. The event came to life after months of planning and dreaming!
Stage Performances
Dreams do come true in NYC! Each studio had the opportunity to perform their choreography on a Broadway stage. This year, dance studios "Let it Go" onstage at the St James Theatre, home of Disney's Frozen on Broadway. Dancing on a Broadway stage is a fantastic opportunity that some people only dream of doing!
Workshops
Dancers learned how to take their performance to the next level with a special performance workshop from Corbin Bleu and Ella Glasgow. Performers also learned a routine from the hit Broadway musical, Hamilton, with dance captain, Gabriella Sorrentino. Dancers also had the chance to take a workshop at Pearl Studios with Disney cast members!
NYC Skyline Dinner/Dance Cruise
To celebrate, performers, instructors, and families danced the night away on an NYC Skyline Dinner Cruise! Those in attendance had a buffet-style dinner and saw a breathtaking view of the New York City skyline and Statue of Liberty from the New York harbor.
Thank you for making the Dance The World Broadway 2019 so unique!