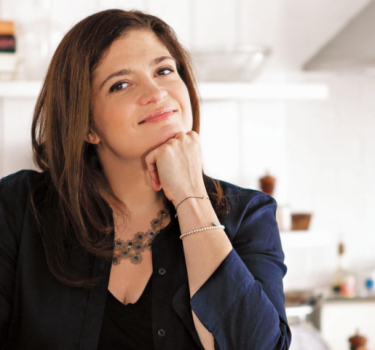 August 23rd, 2019
Cook Around The World 2022 Celebrity Chef…
Alex Guarnaschelli
Alex Guarnaschelli will join us in 2022 for Cook Around The World! We are so excited to have this renowned chef as our celebrity guest.

Alex Guarnaschelli grew up in New York City, where she found her love of food at an early age. Her mother was a cookbook editor, and her father is an Italian and Chinese cooking enthusiast. After graduating from Barnard College, Alex began to explore her culinary interests and began working under the acclaimed American chef, Larry Forgione. After being encouraged by her mentor, Alex moved to Burgundy, France, to do a work-study at La Varenne Culinary School. Alex then moved to Paris and began a four-day "stage" at Guy Savory. This four-day "stage" turned into four years. After her four years at Guy Savory, Alex became a sous chef a La Butte Chaillot. After working and living in France for seven years, Alex decided to return home to New York, where she joined Daniel Boulud at his restaurant, Daniel. Alex then became a sous chef at the Manhattan standard. Alex then moved to Los Angeles to join Joachim Splichal's Patina Group, where she worked at the acclaimed Patina, a restaurant on Melrose in West Hollywood. In 2003 Alex became the executive chef at Butter Restaurant in New York City. Alex has appeared on Food Network Challenge, Beat Bobby Flay, and appeared as a judge on Iron Chef. She then hosted a show titled Alex's Day Off. She later became a judge on the Food Network show, Chopped. Alex has also appeared on The Next Iron Chef as a judge and then a contestant. Alex won Iron Chef in 2012. Alex's show Supermarket Steakout premiered on Food Network in 2019.
During Cook Around The World Alex will be the Head Judge at the Culinary Improv and the Keynote Speaker at the International Gala and Career Forum. During the Culinary Improv, Alex will interact and give professional tips to students. While offering her insight, she will also take notes on techniques, skills, and teamwork. At the International Gala and Career Forum, Alex will speak about her professional journey and how she became a network culinary star.