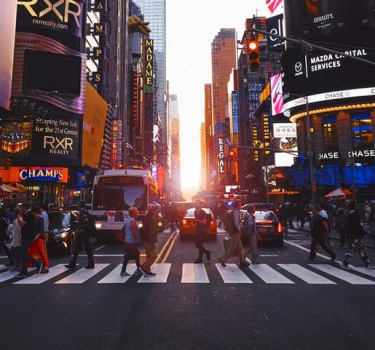 January 31st, 2022
WCV Guide of NYC 2022!
With Dance The World Broadway 2022 approaching and the continuous changes in the nation during this pandemic, we decided to give you some fun and exciting ideas to try in NYC! You may not know what's currently still available to see and do in the Big Apple but don't worry, we have you covered. Here is our list of things to check out in NYC in 2022!
Seeing the Statue of Liberty
The Statue of Liberty is one of the most notable statues in the world and was a gift of friendship from the people of France to the United States. This striking figure was in turn meant to symbolize the American welcome to immigrants and those seeking refuge. The Statue of Liberty was dedicated on October 28, 1886 and was designated as a National Monument in 1924. There are several ways to see this historic monument including a tour or simply heading over to the One World Observatory to get a stunning look of it for yourself.
The Vessel at Hudson Yards Redevelopment Project in Manhattan is an attraction like no other. The sixteen-story structure is made up of a series of honeycomb staircases and platforms that is extraordinarily brain-twisting. It was created with 154 interconnecting flights of stairs that have a combination of 2,500 individual steps and 80 landings. Vessel is composed of bronzed steel and concrete with an interlaced structural design that offers an incredible view of New York City.
Tour the Metropolitan Museum of Art
The Met was originally opened in 1870 albeit in a different building as the current structure was later built in 1879. The collection of art in the museum is among the greatest on Earth and is something you absolutely do not want to miss. It has 2.2 million square feet of space and seventeen curatorial departments with over 2 million works of art within its walls. The collection includes over 5,000 instruments including the world's oldest piano which dates all the way back to 1720!
Take a walk around Central Park
As the name suggests, Central Park is a 2.5 mile long park set right in the middle of New York City. It has become a main attraction in Manhattan as you can rent remote control boats, go hiking and visit the zoo or museums from there. Central Park is also one of the most filmed locations in the world appearing in hundreds of movies dating back to 1908. Some movies include When Harry Met Sally, Elf, Home Alone 2, The Avengers, I Am Legend and more!
Dance The World Broadway 2022 will be here before you know it. There is still a ton of fun to be had in the Big Apple through the pandemic. Join us in NYC and check out these incredible sights for yourself!