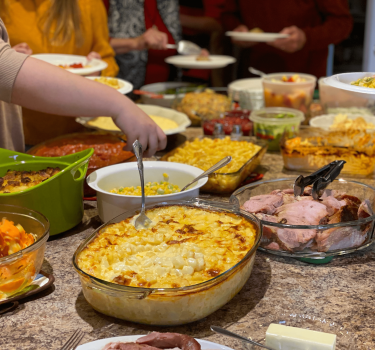 November 23rd, 2020
Thanksgiving Traditions at WCV by WorldStrides
The holidays may be different this year, but some traditions never fade. Here at World Class Vacations by WorldStrides, we want to spread some extra love and appreciation by sharing some of our favorite Thanksgiving traditions!
Amanda, our Special Events Manager, has a long-standing tradition in her family. Every year before making their dinner plate everyone shares what they are most thankful for. The entire family has a chance to express their love and admiration for one another. Amanda says this "turns into a sappy love fest every year."
Denise, our Dedicated Senior Administrative Assistant, spends the day attending a local high school football game with her family. Once the game is over, her family returns home and has their Thanksgiving feast. The dinner menu includes a twenty-four-pound turkey with stuffing, mashed potatoes, sweet potato casserole, green bean casserole, rolls, and lots of gravy. Denise describes this day as "a great day to just be with family and to be thankful for all we have."
Nicole, our Dance Events Manager, watches the Macy's Thanksgiving Day Parade each Thanksgiving morning with her family. She loves to see all of the talented performers, but her favorite performance each year is the Radio City Rockettes! The Rockettes' high kicks officially "kick-off" the Christmas season!
Annie, our Cook Around the World Program Manager, makes a delicious sweet corn pudding for her family. This is a family favorite and it gets devoured shortly after serving. If you're looking for a new dish to add to your Thanksgiving menu check out the recipe here.
These are just a few of our staff members' Thanksgiving traditions. We hope everyone has a safe and happy holiday!